Five With Fidel API #9 | Scott Mooers, Head of Global Revenue Operations, Fidel API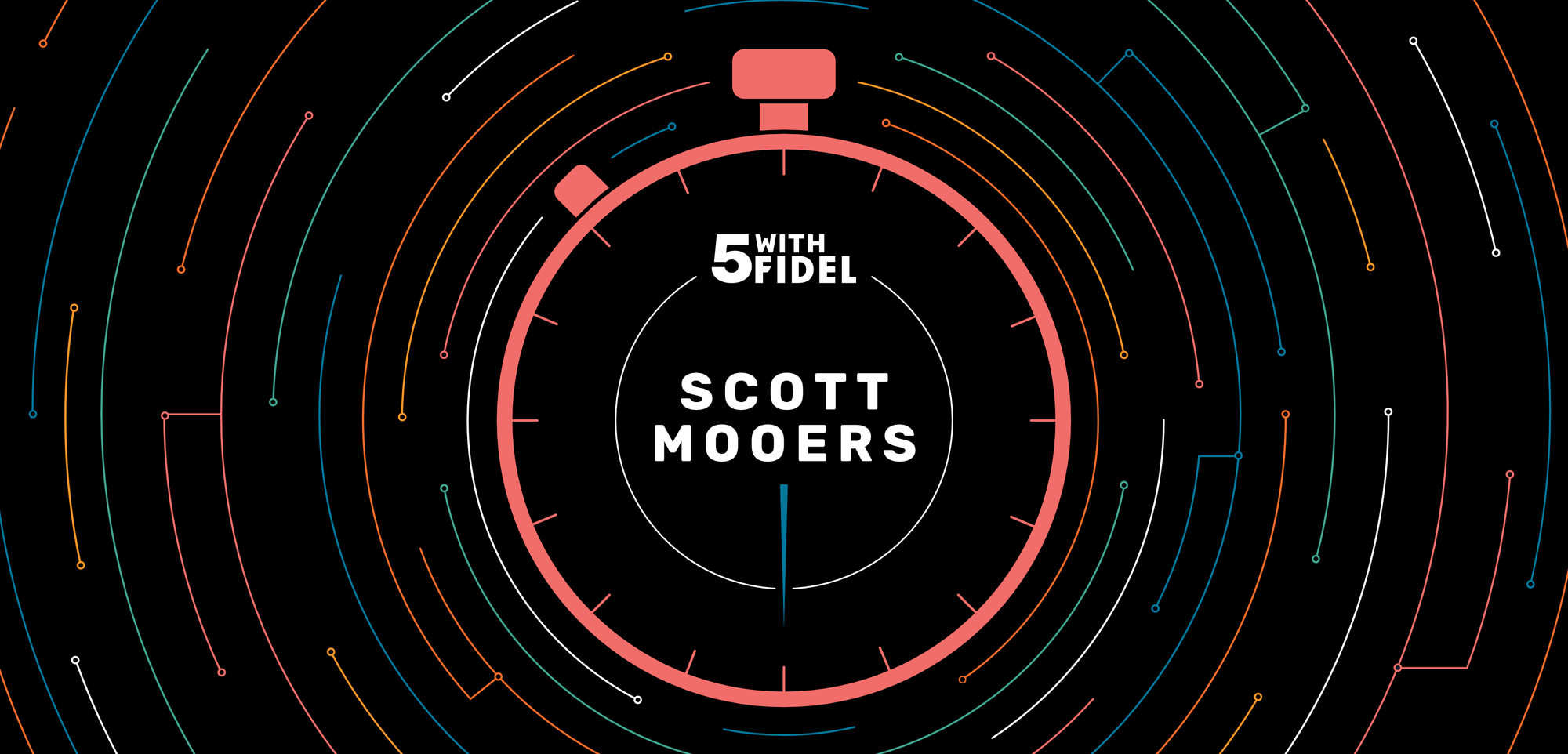 Welcome to Episode #9 of Five with Fidel API!

This week, we're introducing someone who brings heaps of experience implementing, managing and scaling Revenue and Sales Ops teams with the likes of Marqeta, Workday, and NetApp.

Scott Mooers has joined Fidel API as Head of Global Revenue Operations, leading the charge on the alignment of sales, marketing and customer success operations across the full customer lifecycle to drive revenue growth through operational efficiency.
There's a lot of conversation on untapped opportunities and newer concepts like Open Finance. It's a lot to unpack, especially for GTM teams trying to build and roll out innovative, new products.
Lucky for us, we're speaking to someone who's been at the heart of these teams for much of his career. Everyone, please join us in welcoming Scott!
---
Q1 | Hi Scott, welcome aboard! You're Fidel API's first Head of Global Revenue Operations: could you tell us about your role and what you will be doing at Fidel API?

Thanks for having me, it's great to be here! As Head of Revenue Operations, I oversee Fidel API's revenue-generating strategy, processes and operations. That helps to accelerate our GTM engine across a multitude of aspects including revenue enablement, pricing strategy (deal desk), operational processes, analytical insights and our GTM tech stack. It's a wide-ranging set of responsibilities, but the fundamental goal is to implement strategies that help Fidel API create, progress and close opportunities.

Q2 We'd love to hear a little about how you first got started in Revenue Ops, and some of the biggest lessons you learned while scaling with, in particular, a rapidly-growing brand like Marqeta.

I started my career in Financial Planning and Analysis, before moving into Sales and Revenue operations at NetApp, Workday and Marqeta. Over the past 20+ years, I've been fortunate enough to be a small part of some incredibly successful growth stories. These opportunities allowed me to learn the good, bad and the ugly of revenue operations, and needless to say, it's been a fun, educational and humbling experience so far.


One of the biggest lessons I learned in these high-growth business models is that the best time to invest in your revenue operations function is yesterday. Proactively anticipating the needs of our GTM machine is critical. Coming from big-tech companies like NetApp and Workday, I was able to learn what world-class Sales and Revenue Ops look like.

At Marqeta, I started as an "army of one" and implemented the best practices I had learned previously in order to build their sales operations function from the ground up. In these situations it's easy to get overwhelmed. However, we stayed focused on accomplishing our goals by "doing the little things right, in order to do the BIG things right."

If you take a look at the growth trajectories of all of these companies, I think it becomes pretty clear that world-class RevOps teams are a force multiplier for revenue generation.
Q3 | With that in mind, what sorts of things attracted you to join Fidel API?  

First and foremost, it was the people who attracted me to Fidel API. At the end of the day we all want to work with teammates that we enjoy working with and I'm happy to say we have a great team here.

Second were Fidel API's core values and culture. I've always been a strong advocate of integrity and winning the right way and it's important to me to work for a company that feels the same way.

Thirdly - Fidel API is in an exciting part of the FinTech space and we're carving out a new category much as I helped do at Marqeta. Our card-linking technology empowers customers with the unique opportunity to provide real-time recognition and value-added insights into card transactions (I sometimes think of it like open banking on steroids).
Q4 | Fidel API is a first-mover in providing tools to build on transaction data from the card networks. Can you comment on the process of scoping out a revenue strategy while also carving out a new category in the crowded fintech space?  

Today, Fidel API has a leg up on the competition with our first-mover advantage. But as the space continues to grow, RevOps is critical for the commercial function to grow quickly and efficiently. In order to scale effectively, setting realistic expectations and instilling disciplined processes into day-to-day activities will allow our operational efficiency to incrementally increase.

The more operational efficiency we have, the more productivity we'll get out of our customer-facing GTM resources and the better insights we can relay back to our Product teams. The more well-informed our Product teams become, the better able they will be to continue building products that solve real pain points for our customers. It is that level of "flywheel" momentum that will propel Fidel API's growth into the future.
Q5 | We've done our research and found that your high-school marching band set a Guinness World Record and led the London New Year's Parade in front of the Queen! Firstly, wow. Secondly, where in the world would you want to play if you got the band back together again?

It's hard to think that any location can rival our Paris-to-London trip, playing non-stop for the inaugural journey through the Channel tunnel. Although, playing in front of the Queen on New Year's Day comes close! These are memories that I'll always cherish, but if we were to bring the band back together again it would be incredible to play at one of the Seven Wonders of the World. I'm thinking Great Pyramids, Leaning Tower of Pisa or the Great Wall of China.

---
You can connect with Scott on Linkedin here if you'd like to say hi. Make sure to look out for our next Five with Fidel API episode - subscribe to our blog here to never miss a beat.